Hurricanes in Connecticut
When is Hurricane Season in Connecticut?
Connecticut, like the rest of the Atlantic coast, observes an official hurricane season that runs from June 1 to November 30. The state's climate and geographical position along the Atlantic expose it to the potential impacts of a tropical storm, tropical depression, or hurricane.
Historical data from the National Hurricane Center shows that Connecticut has experienced significant hurricane impacts, albeit less frequently than some other U.S. states. For instance, the state experienced a major hurricane in 1938, which resulted in significant fatalities and economic damage.
The visualization below presents an image based on historical hurricane paths going back to 1851.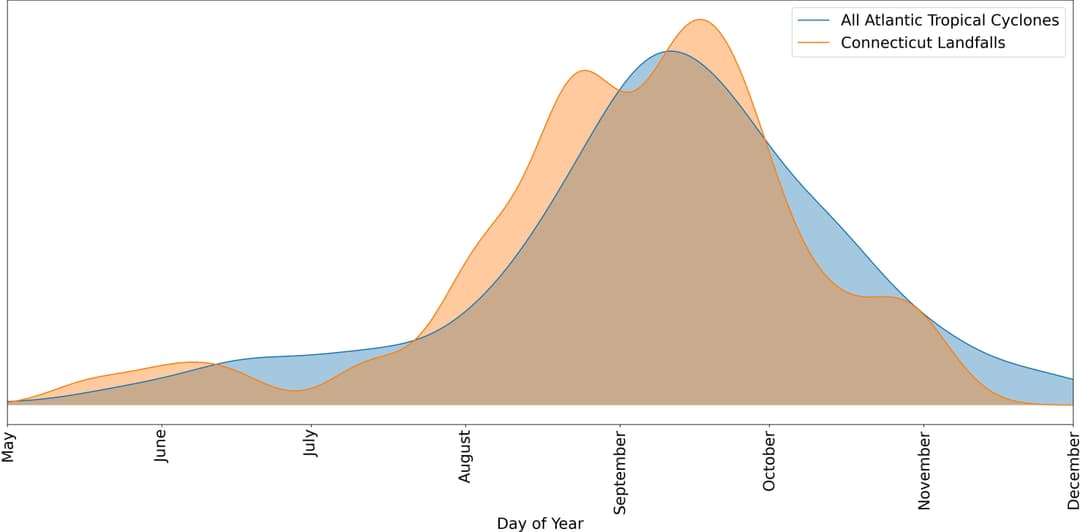 This graph shows the likelihood of experiencing a tropical cyclone on a particular day of the year. It compares actual storm landfalls in Connecticut with the storm pattern in the entire Atlantic basin. The raw data for this visualization was obtained from the NOAA Hurricane Research Division. For more detailed information, the NOAA Hurricane Research Division's data can be accessed directly here.
Where Do Hurricanes Hit Most in Connecticut?
Coastal towns and cities in southern Connecticut, especially those along the Long Island Sound, are most prone to hurricanes due to their proximity to the Atlantic Ocean.
Towns such as Stamford, New Haven, and Bridgeport have experienced the brunt of hurricanes with hurricane force winds, significant storm surge, and consequential flood damage. Another vulnerable region is the Connecticut River Valley. While it's not directly on the coast, the Connecticut River can act as a conduit for storm surges from the ocean, making towns along its course, like Hartford, susceptible to flooding.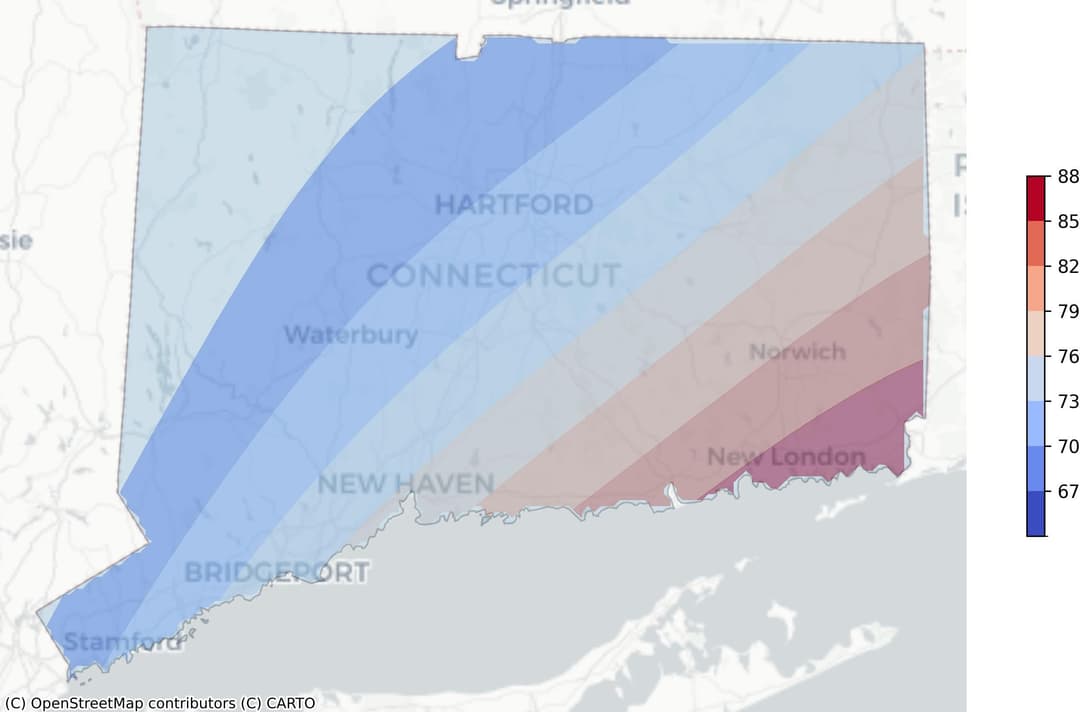 The above graph provides a visual representation of the areas most at risk from hurricanes in Connecticut. It's a heatmap, with the color spectrum ranging from blue to red. Blue areas are less prone to hurricanes, while red areas have a higher risk. The color intensity is determined by the frequency of hurricanes and the wind speed, with more intense colors representing areas that frequently experience high wind speeds.
Note: According to the Connecticut Sea Grant, the coastal towns and cities in the southern part of Connecticut, especially those along the Long Island Sound, are most prone to hurricanes due to their proximity to the Atlantic Ocean.
What Are the Recent Hurricanes in Connecticut?
Hurricane Elsa (July 2021): Although Connecticut was spared the full brunt of the storm, heavy rain and strong winds led to power outages and minor flooding across the state. There were no reported fatalities.
Tropical Storm Isaias (August 2020): Isaias significantly impacted Connecticut, causing widespread power outages affecting over 700,000 homes and businesses. The storm resulted in two deaths and caused an estimated $277 million in damages. The most affected localities were Fairfield and New Haven counties.
Tropical Storm Fay (July 2020): Fay brought heavy rainfall and gusty winds to Connecticut, resulting in flash flooding and minor wind damage. There were no reported fatalities or significant economic losses.
Hurricane Dorian (September 2019): Although Connecticut was not directly hit, the state experienced heavy rainfall and strong winds, causing minor flooding and power outages. No fatalities were reported.
Tropical Storm Henri (September 2018): Henri brought heavy rain and strong winds to the state, causing power outages and minor flooding. No fatalities were reported, but the economic impact was significant, with damages estimated at $60 million. The most affected areas were Hartford and Tolland counties.
Hurricane Jose (September 2017): While Jose didn't make landfall in Connecticut, it brought heavy rain and strong winds, causing minor flooding and power outages. No fatalities were reported, and economic losses were relatively minor.
How to Prepare for a Hurricane Season in Connecticut
Preparation is a vital step when facing the hurricane season in Connecticut. Well-planned actions and preventive measures can significantly reduce the potential risks and hazards.
Before a Hurricane
In the event of a hurricane, it is crucial to follow a hurricane preparedness plan to safeguard lives and property. Here is a hurricane preparation checklist to ensure hurricane safety:
Be informed: Stay updated with local news and weather forecasts. Understand your community's evacuation routes and shelter locations.
Secure your home: Reinforce windows, doors, and roofs to withstand high winds. Clear yard of any items that could become projectiles.
Stock up on supplies: Gather essential items such as water, non-perishable food, medication, flashlights, batteries, and a first-aid kit.
Prepare your emergency kit: Include important documents, cash, hygiene supplies, and items for individual needs (e.g., baby supplies, pet food).
Create a family emergency plan: Discuss where to meet, how to communicate, and what to do in different scenarios.
Check insurance coverage: Confirm if your policy covers damage caused by hurricanes and floods.
Protect your electronics: Back up important data and consider surge protection for your electronics.
During a Hurricane
Here are some crucial steps on what to do during a hurricane:
Stay informed about the hurricane's path by regularly checking local weather updates and news.
Ensure your emergency kit is stocked with essentials such as water, food, medications, and necessary documents.
Secure your home by closing storm shutters, reinforcing doors, and moving valuable items to higher levels to prevent water damage.
If instructed to evacuate by local authorities, do so immediately and follow the recommended evacuation routes.
Stay indoors and away from windows, skylights, and glass doors to avoid injury from broken glass.
Avoid flood water as it may be electrically charged from downed power lines. Flood water may also hide dangerous debris.
Do not use electrical appliances, avoid using the phone, and stay off bridges over fast-moving water.
After a Hurricane
Here is a brief list of steps to follow in the aftermath of a hurricane:
Safety First: Ensure everyone in your household is safe and accounted for. If necessary, seek immediate medical attention.
Assess the Damage: Once it's safe, inspect your property for damages. Document all damages with photos or videos for your auto insurance claim or homeowners insurance claim.
Contact your Insurance Company: As soon as possible, file an insurance claim for any damages incurred. Provide all necessary documentation and cooperate fully with the adjusters.
Contact FEMA: In case of significant damage or loss, contact the Federal Emergency Management Agency (FEMA). They can provide disaster assistance to individuals and communities.
Clean Up: Start cleaning and repairing your property to prevent further damages. Always prioritize safety and consider hiring professionals for significant damages.
Follow Local Guidelines: Each state might have specific guidelines in the aftermath of a natural disaster. If you are in Connecticut, make sure to follow guidelines on what to do after a hurricane in Connecticut.
Note that these are general guidelines and might need to be adjusted based on your specific situation.